WLS Help Desk & Support
Help is available in the SolarWinds online knowledge base or it.westchesterlibraries.org for the following:
Evergreen
Account, Email, and Google Drive
WLS Shared eResources
Hardware and software support
There are three ways to contact the help desk
Sign in and submit a request via the SolarWinds online portal.
Call (914) 674-3616 for urgent issues and login questions.
Send an email to support@wlsmail.org.
To contact us through the online portal or email, send one request with RELATED issues.
For example, "3 examples of an item not circulating correctly" in one email is ok. "The OPAC is not working, can't edit a note, holds not trapping" is not ok.
Please include:
A text description of what you were trying to do, ESPECIALLY if applicable,

Item title and barcode ID
Patron name and barcode ID

The VDI workstation name from the bottom right corner of your desktop screen if applicable
eg. VMWLS001
Attach files or screen shots as needed.
How to use the Snipping Tool
To use the online portal
Any staff member can contact the WLS help desk via the SolarWinds Support Desk portal, phone, or email for help. The SolarWinds Support Desk online portal can be used to access an up-to-date knowledge base and a staff member's support tickets.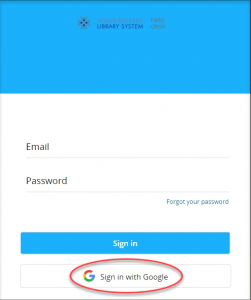 Go to

https://westls.samanage.com

​

Choose

Sign in with Google

. 

​

Enter your WLS or library email and password 

​

Click

Sign in

and follow the prompts.

​


The SolarWinds home screen displays.



Once signed in,
Search the knowledge base for possible solutions
Create an incident ticket or service request
Check on or update current tickets
When creating a ticket,
Choose a Category and Subcategory whenever possible
Enter a brief description in the subject line
Enter a description, including:
A text description of what you were trying to do, ESPECIALLY if applicable,

Item title and barcode ID
Patron name and barcode ID

The VDI workstation name from the bottom right corner of your desktop screen if applicable
eg. VMWLS001
Attach files or screen shots as needed.
How to use the Snipping Tool
WLS IT SolarWinds Support Desk Preview (printable)