Westchester Library System LEADER Lab
Please click here to log your time in the LEADER Lab so that we know how our space is being used. Thank you!
The Westchester Library System LEADER Lab – Library Experimentation Action and Digital Education Resource Lab –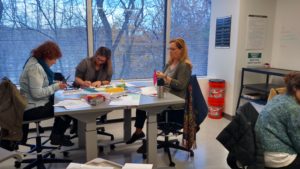 is a center for innovation and professional development. It offers library staff opportunities to
View offerings and register for workshops through the WLS evanced calendar.
Programs are geared to adult and teen audiences and most can be adapted for youth demographics. A takeaway from most programs is a detailed plan that includes
Featured Program Plans and Presentations
Getting Started With 3D Printing
Getting Started with Tinkercad 3D Modeling
Coconut Lotions For Day and Night
Photo Candle Transfers – Program Plan
LED Greeting Card Project Plan
Wear Your LEDs: Getting Started With e-Textiles
Sun Print Greeting Cards Project Plan
Equipment
WLS LEADER Lab Kits
Looking for information about WLS sewing machines?